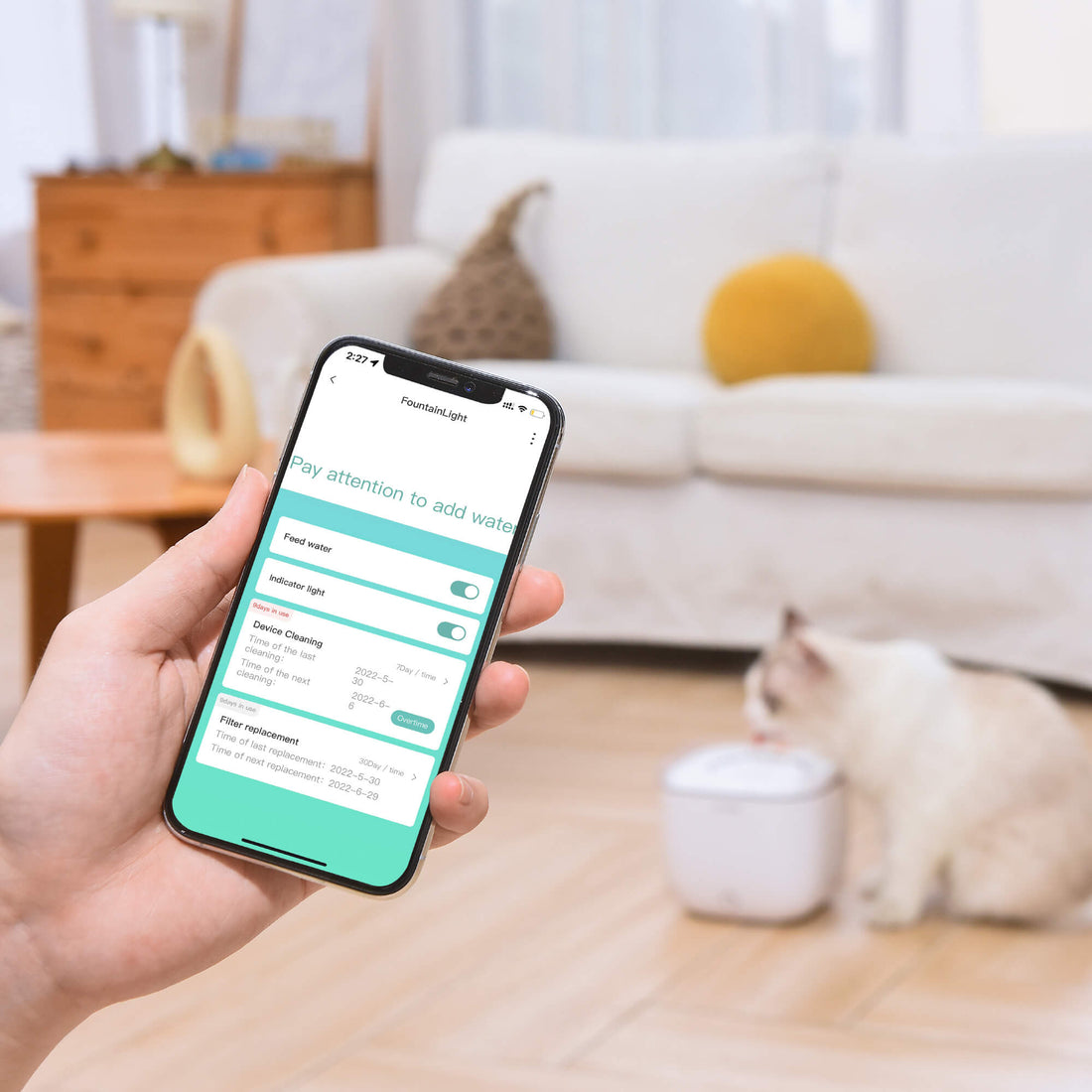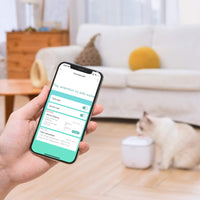 Automatic Cat Water Fountain
Wi-Fi enabled automatic cat water fountain, drinking fountain for cats and small dogs.
Guaranteed Safe Checkout:
The key to prevent kidney and urinary diseases for pets is helping them staying hydrated.  Drinking fountains attracts pets to drink more by keeping water running and fresh. Pet Marvel's fountain is app supported, simple to use, easy to clean and with a 78oz capacity, making it the ideal choice. The triple-filtration system maintains better-tasting and fresh water. The wireless pump is incredibly quiet and has a long lifespan.
Color: White
Volume:0.66gal
Dimension:7.28 X 7.28 X 6.30 inches
Material: ABS, PP, PC
Wifi: Enabled, 2.4G only
Net weight: 1.98lbs
A solution to the drinking proble
SEE IT IN ACTION
Pets Drink More
Running water attracts your cat to drink more. Fully hydrated cats are less likely to catch diseases. A continuous circulation of water in this fountain prevents bacteria from growing as well.
App Embed
Keep track of water volume at instant, and remotely control its on or off. Sending
you filter replacement and cleaning notification, so you always know when.
Wireless Pump
Detachable and replaceable wireless pump introduces an extra set of safety and longer service life.
Triple Layer Filtration
3-layer filtration filters out heavy metal, hair, foreign object and more, providing a fresher water.
No Wet Chin
Arc-shaped Container, avoiding wetting face or chin
Easy Assembly
All detachable and washable parts within the inner barrel, easy to be disassembled and assembled for cleaning, filter replacement and water refilling.
One button control
Easy to use for everyone with single button control.
Lifts to clean
Each component can be disassembled quickly and washed.
Pull-up handle
Easier to lift the fountain's top and refill.
78oz capacity
Over a week of volume for a one cat family.
Ultra-quiet
Not even the sound of running water.
Swimming Pool design
Top water storage space for the impatient kitty.
For a small breed dog, yes.
Yes, water and electricity separated in built in
We recommend changing the filter once a month.
You should refill the water when the red light is on or the app sends you notification.
Just pull up on the rubber tab and you can replace it easily.
You could turn off the water pump and encourage her to use the fountain as a regular water bowl at first.