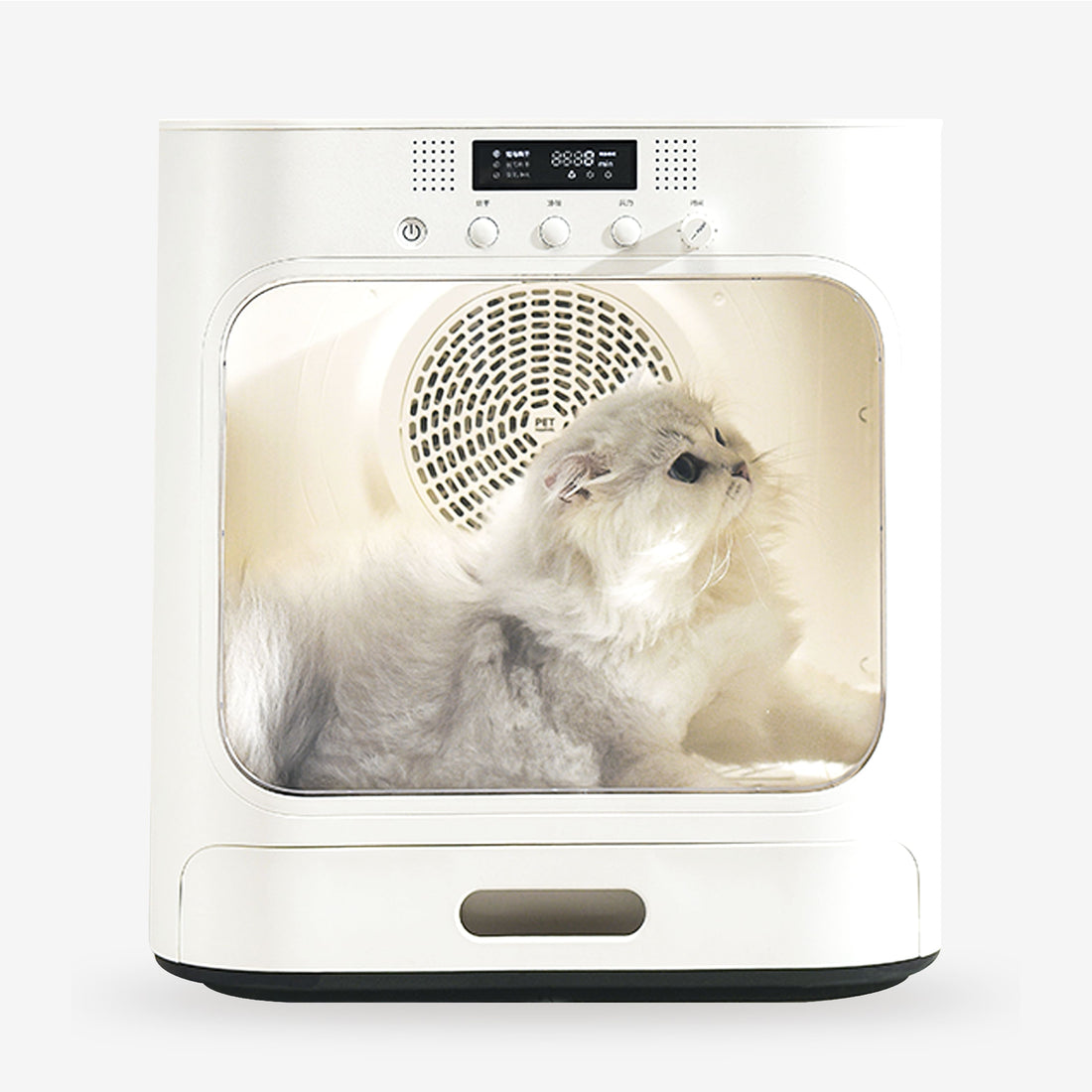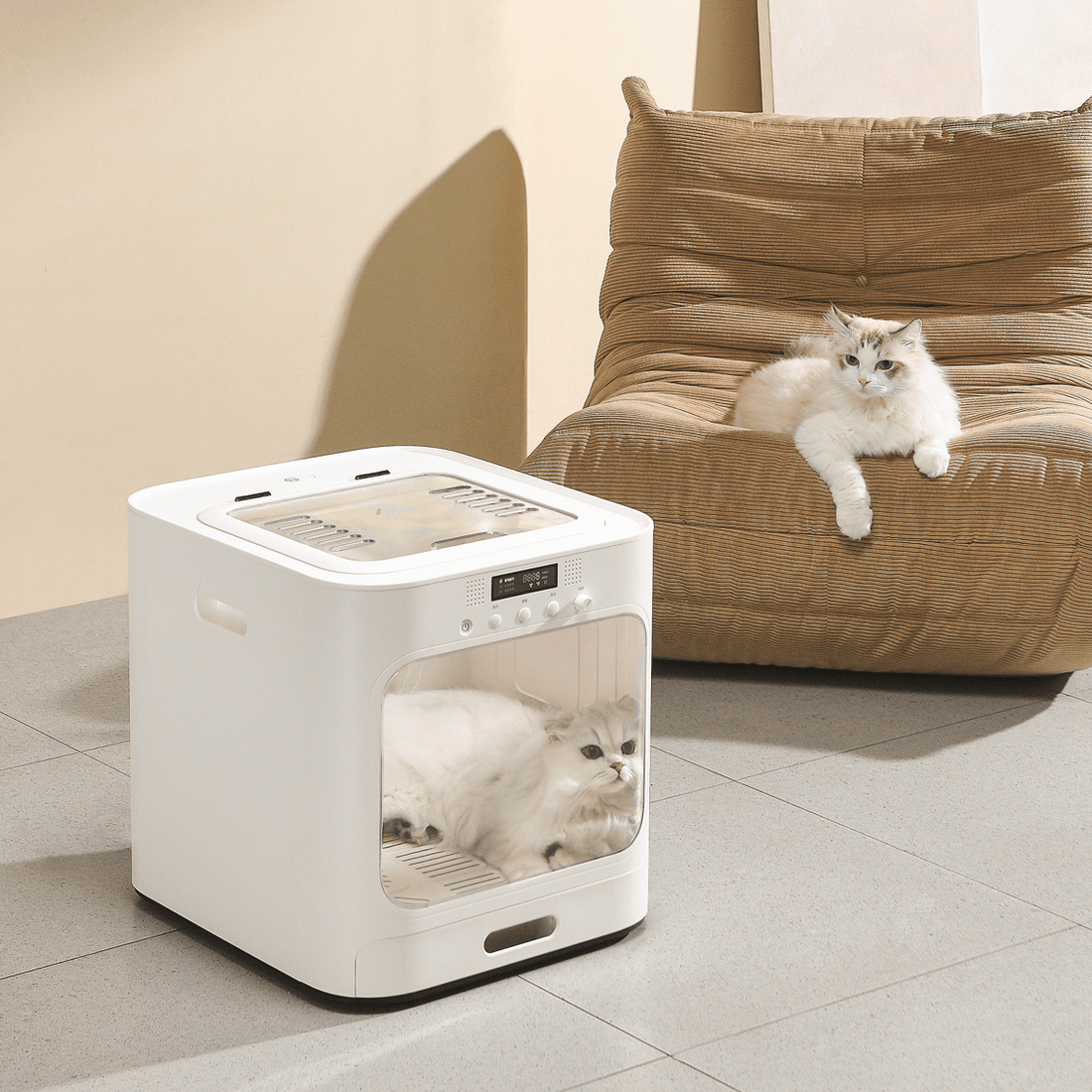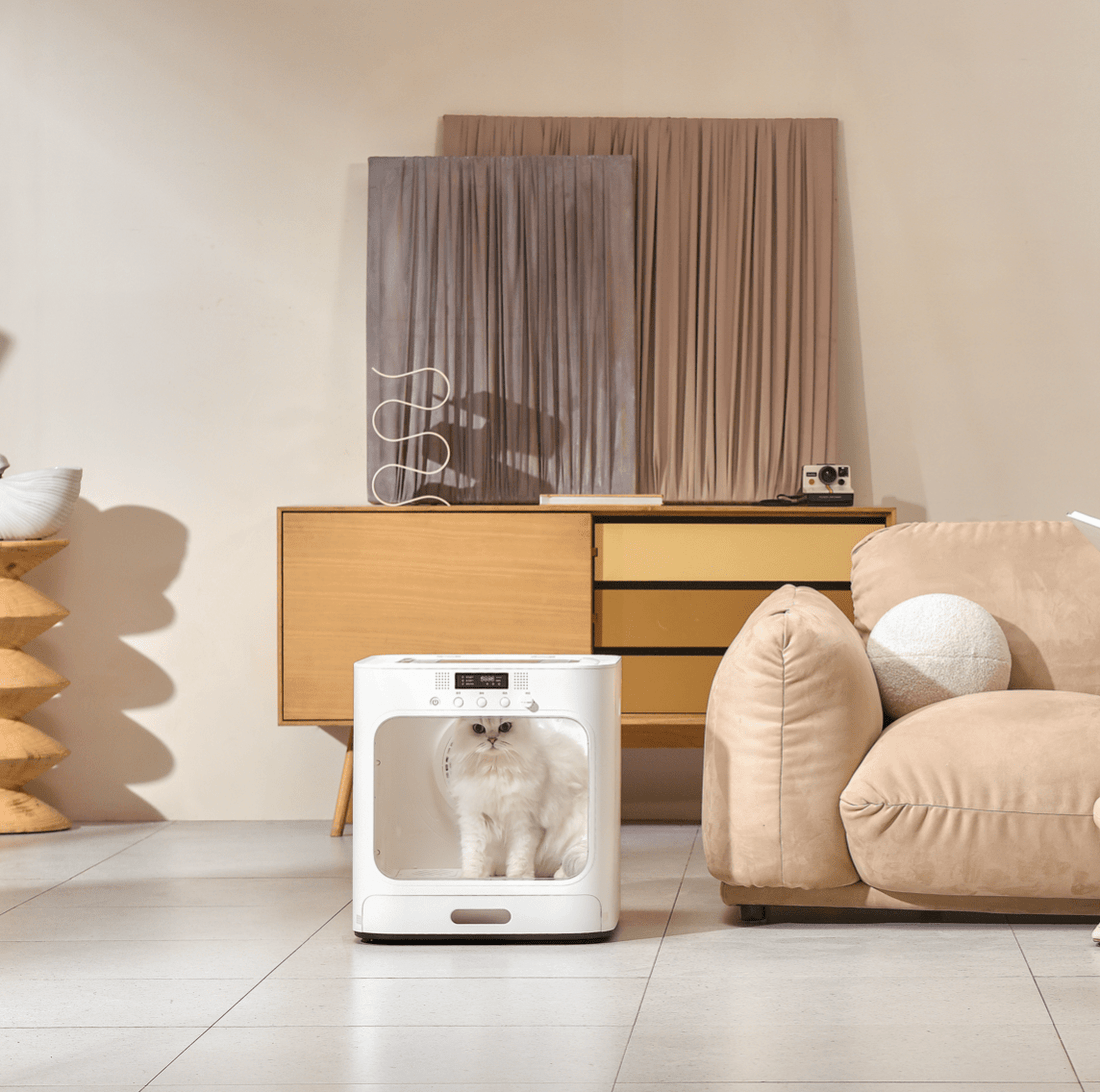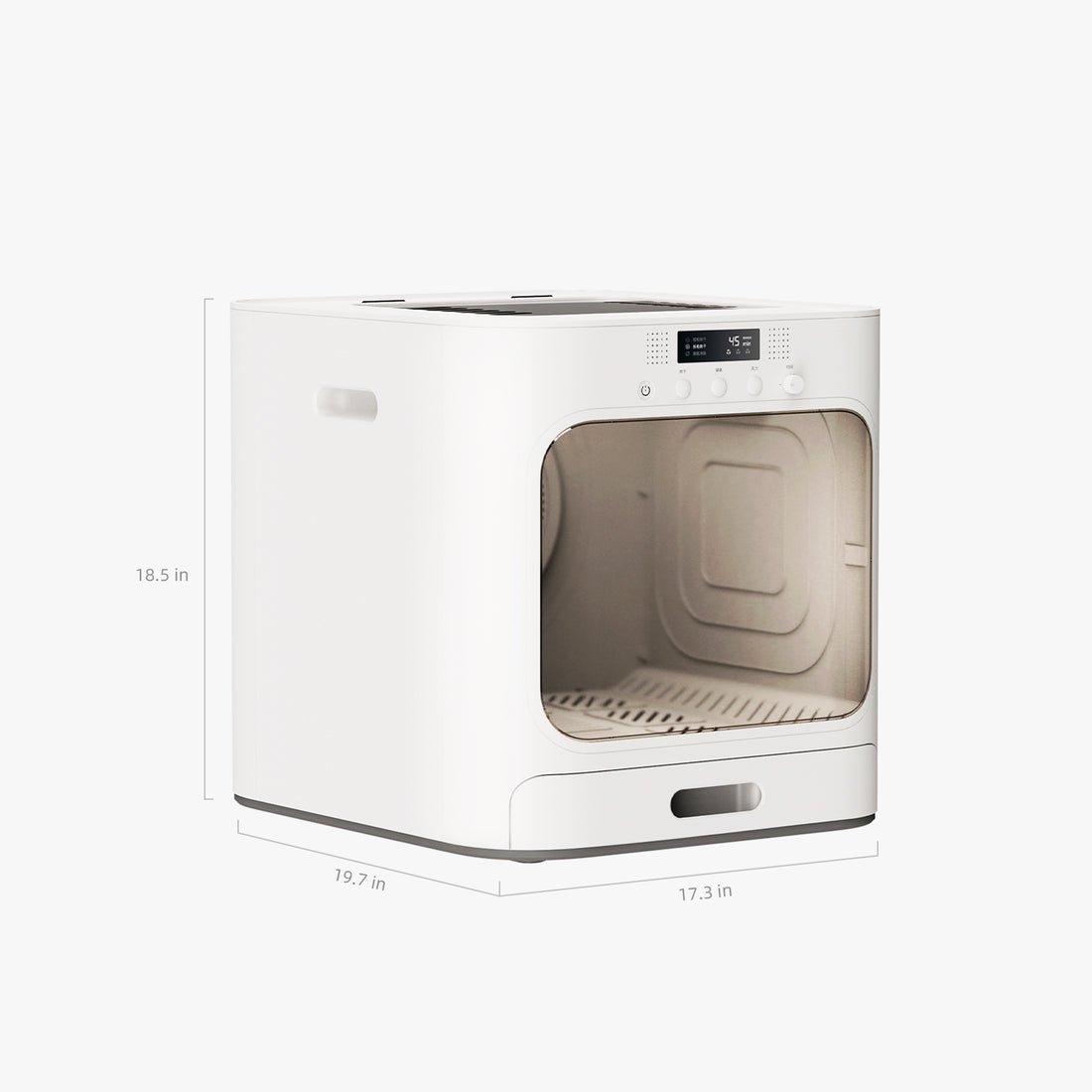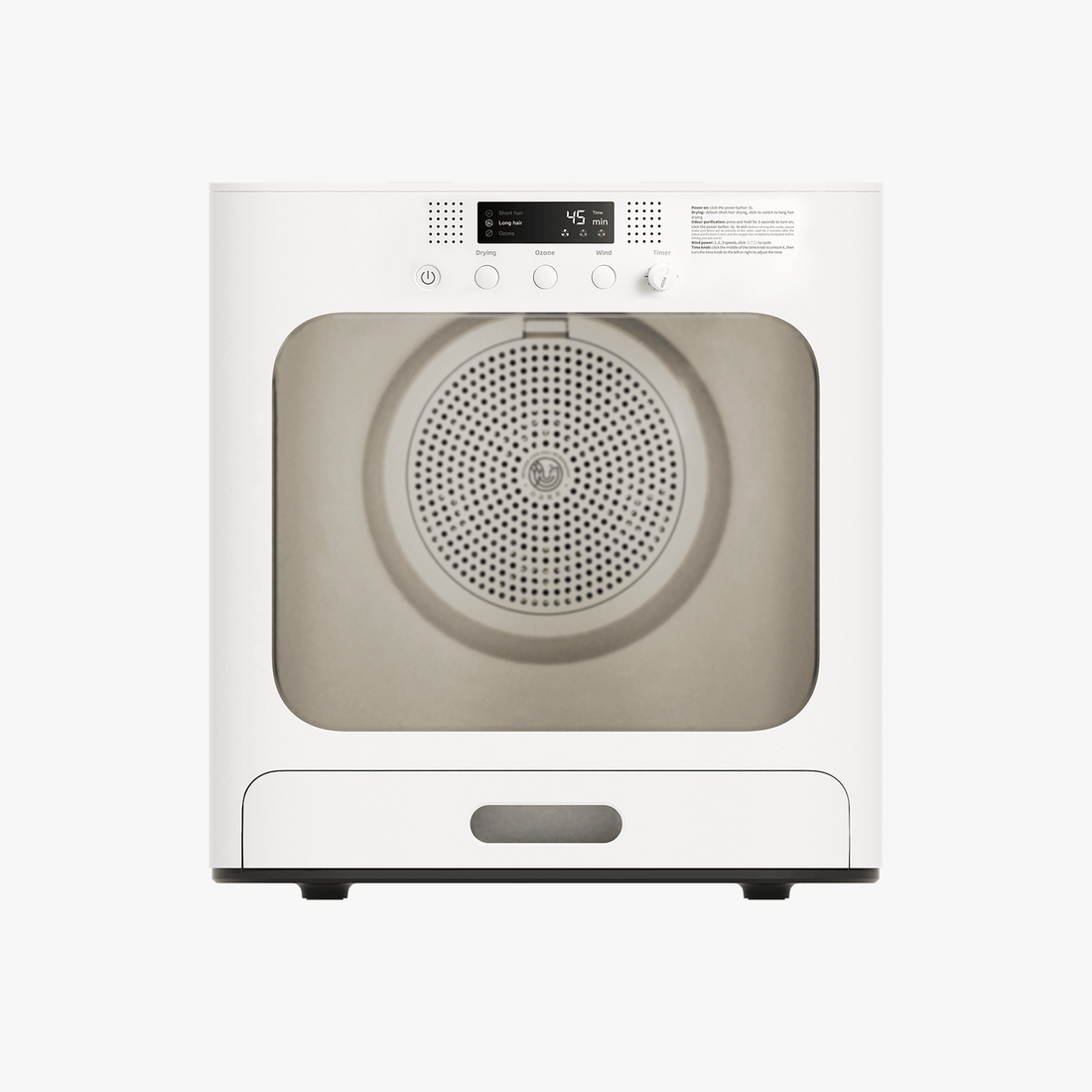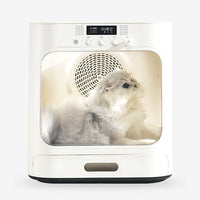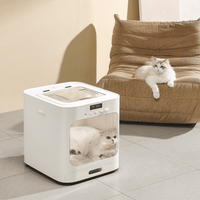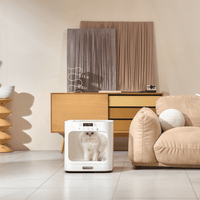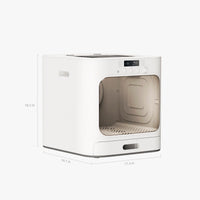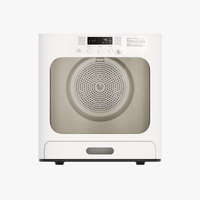 10% OFF ON SMART SERIES. CODE: PET10
The most secure automatic grooming pet dryer, pet drying box for cats and small dogs from Pet Marvel.
Guaranteed Safe Checkout:
Drying your pet after a bath is sometimes a nightmare for pet parents. With Pet Marvel's dryer cube, drying them off becomes manageable work. The dryer steadily works at 101°F along with 360° air blowing. Different modes are provided for cats and dogs with either long or short hair. To ensure your pet's safety, it is equipped with overheat protection which automatically ceases working once any abnormality is detected.
Name: Smart Cat Dryer
Color: White
Materials: ABS + PP
Net weight: 18.7lbs
Dimension:19.6 X 17.3 X 18.5 inches
Power Voltage:110V-120V~/ 50HZ-60HZ(USA)
Power Rating: 750W
Product Capacity: 60L
Recommended Size: Cats and dos under 20lbs
CLICK TO FIND OUT
HOW IT WORKS?
FREE FROM MANUAL DRYING
With the help of Pet Marvel's dryer cube, you can save a lot of time from drying and hair cleaning afterwards. Most importantly, no more scratches from an annoyed cat.
360° AIR
With three options for wind speed, internal and exterior circulation quickly dries pet hair in all areas. Belly and paws get dried evenly avoiding inflammation. Temperature increases in a gentle way, reaching a maximum of 101°F.

Mild Temperature
Power off automatically when temperature is detected overheated.
Running in Silence
55 dB of noise as quiet as a conversation.
Breathing Holes
Air ventilation ensured by breathing holes on the top.
HAIR SPA TREATMENT
The dryer is also engineered to save hair from heat damage. Along with ionized air, keeps your pet hair shine and smoothness, reducing frizz and dryness all at once.

CLEAN THE TOYS
Didn't want to mix laundry with your pet? Try out the self-cleaning features to clean the dryer as well as its favourite toys and accessories.

Collecting Tray
An easy pull-out tray in the bottom to collects water and hair.
OLED Touchscreen
A stylish touch panel on top, displays status and instructions for interactions.
Convenient Handles
Easily move the dryer cube as needed With portable handles on both sides.
Step1: Power up the machine and wait for the reset to be completed.
Step 2: Add sand to the MAX line.
Step 3: Execute the shovel, after the shovel is finished the weighting calibrate to complete after the scoop is finished.
Step 1: Perform a bin clean (failure to perform this operation risks damaging the equipment)
Step 2: Cut off the power supply
Step 3: Open the back cover and remove the drum (lift the drum slightly upwards when removing it), close the back cover.
Step 4: Rinse the drum and wipe the drum until there is no residual water.
Step 5: Open the back cover and put the drum back on (lift he drum upwards slightly when putting it back on), close the back cover.
Stpe 6: Switch on the power and the unit will automatically reset.
E1: Weight Sensor Anomaly
E2: Infrared Pyroelectirc
Sensor Interface Anomaly
E3: Infrared Pyroelectric
Sensor Anomaly
E4: Bottom Full Receiving
Ophtalmic Sensing Interface Anomaly
E5: Bottom Receiving
Ophthalmic Sensing Anomaly
E6: Foreign Body in the
Bottom Receiving Photo Eye
E9: Abnormal Back Cover
Saftey Switch Interface
E10: Hall Magnetic
Induction Interface Anomaly
E11: All Hall Anomalies
E12: Discharge Hall
Anomarly
E13: Reset Hall Anomaly
E14: Motor Interface
Abnormalities/Adapter Abnormalities
E15: Motor Blocking