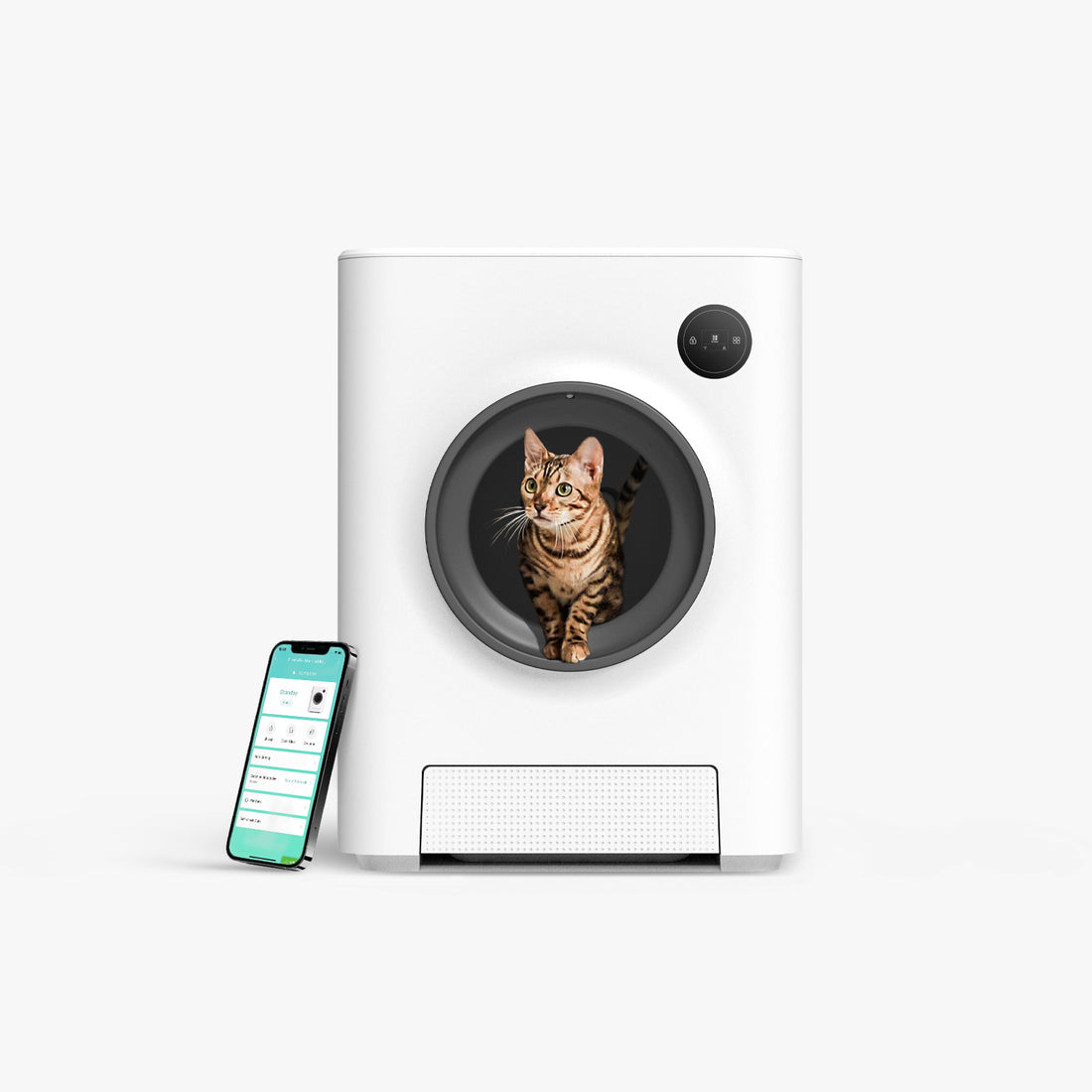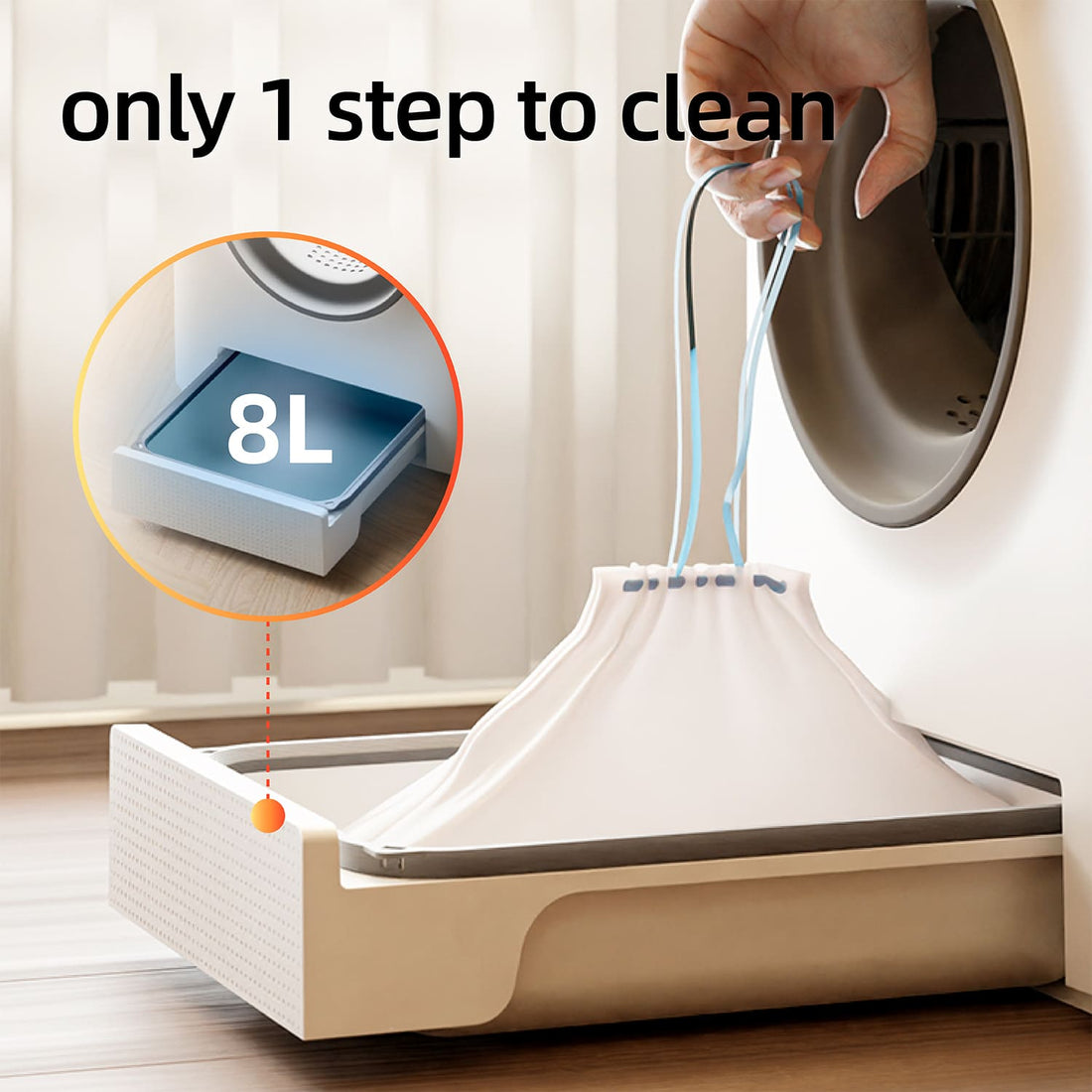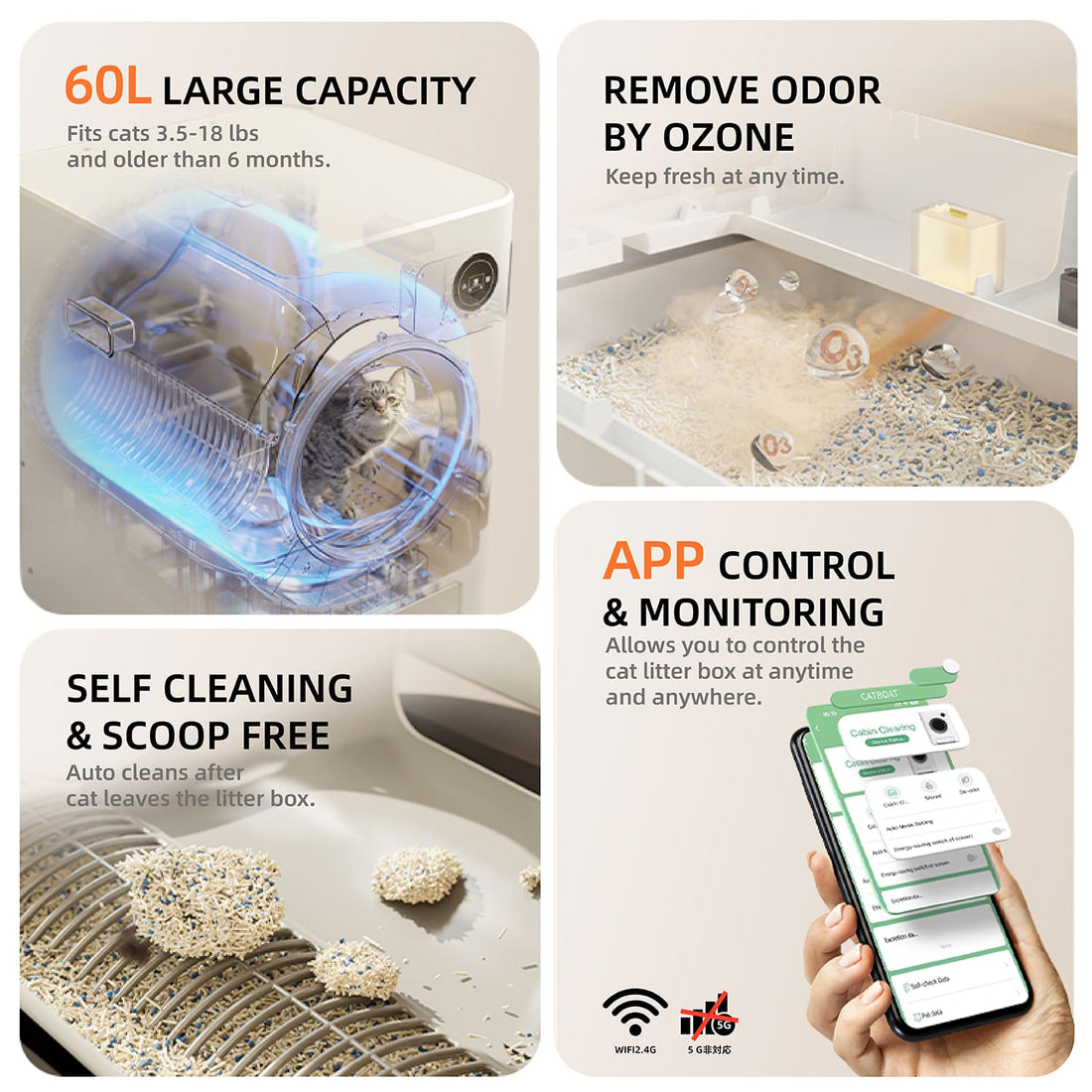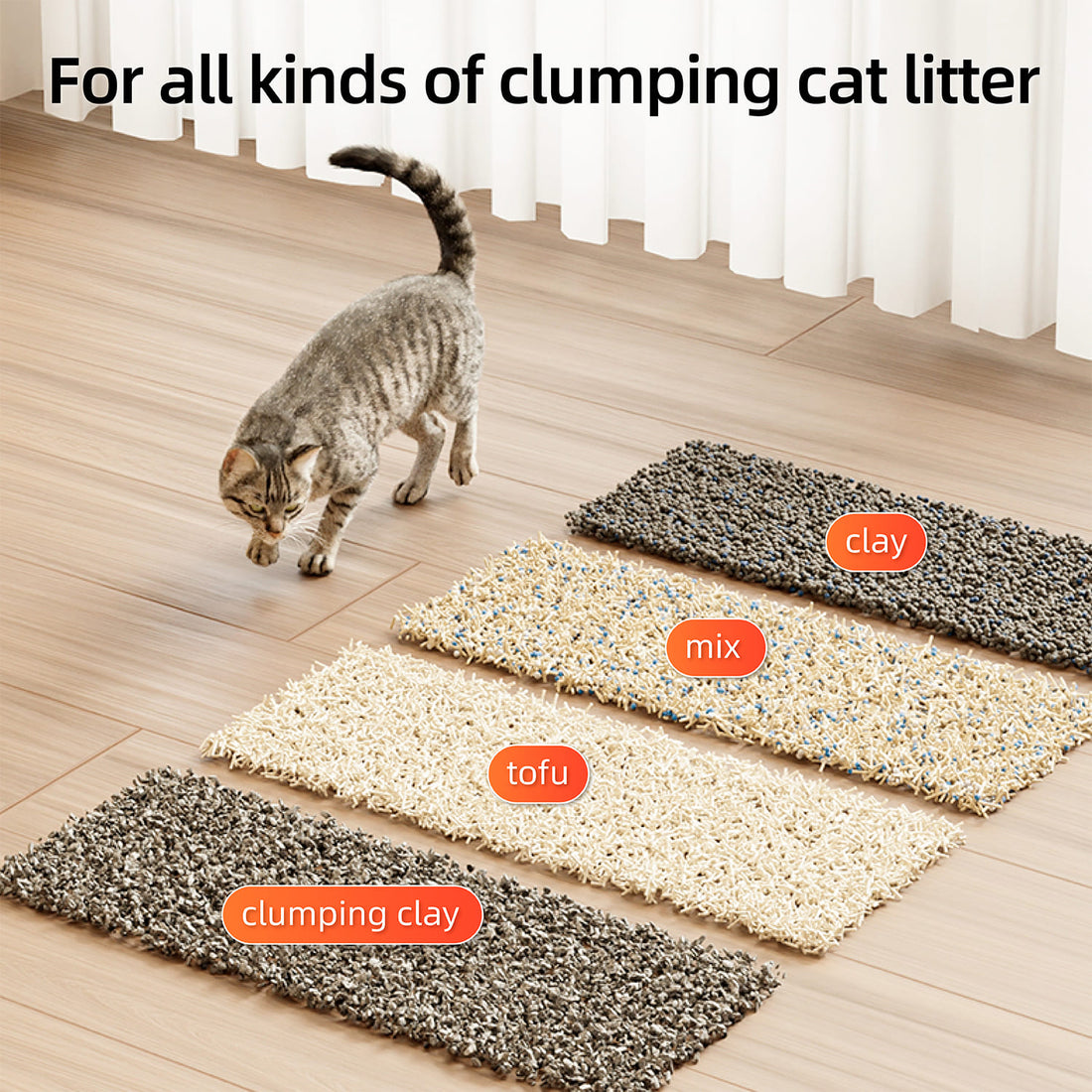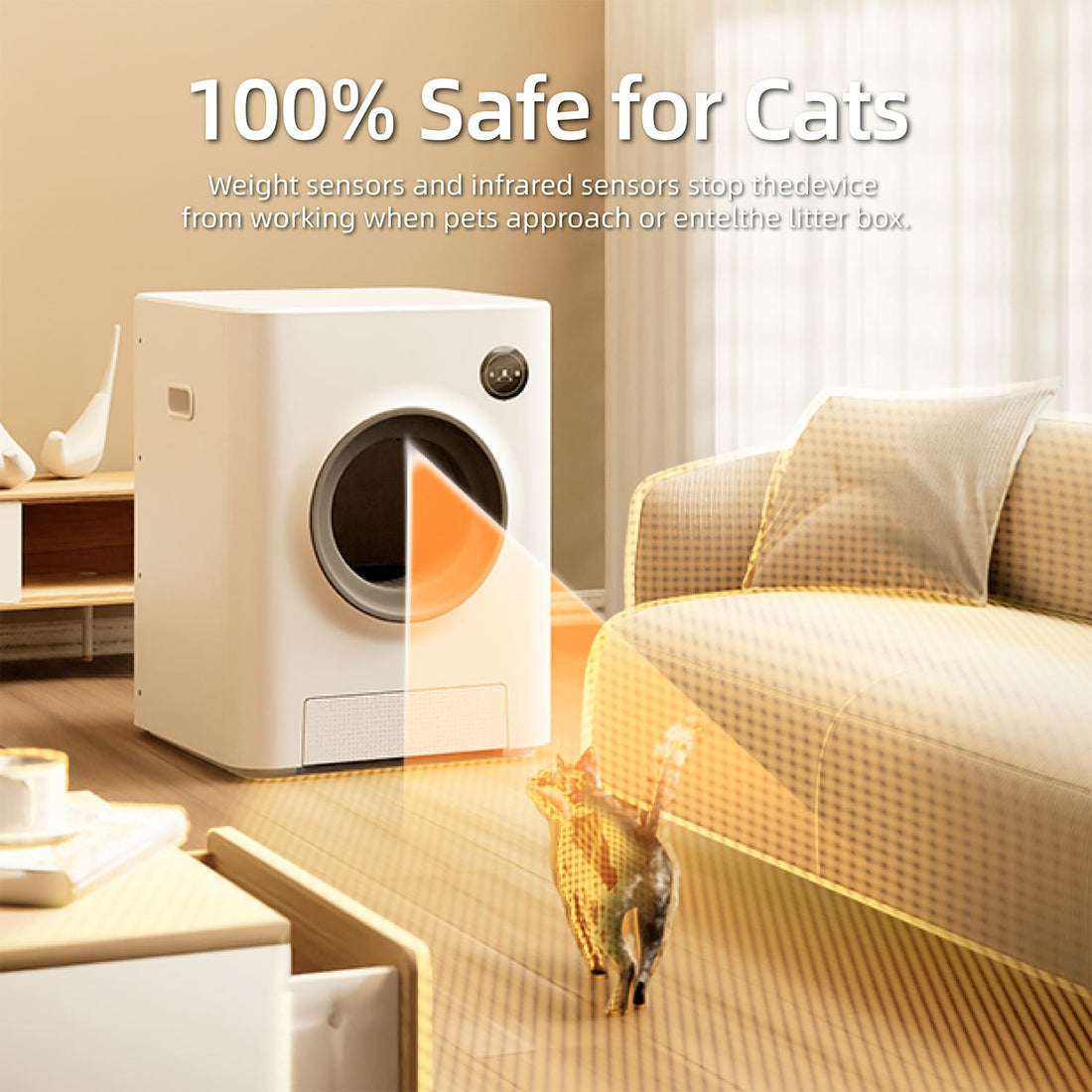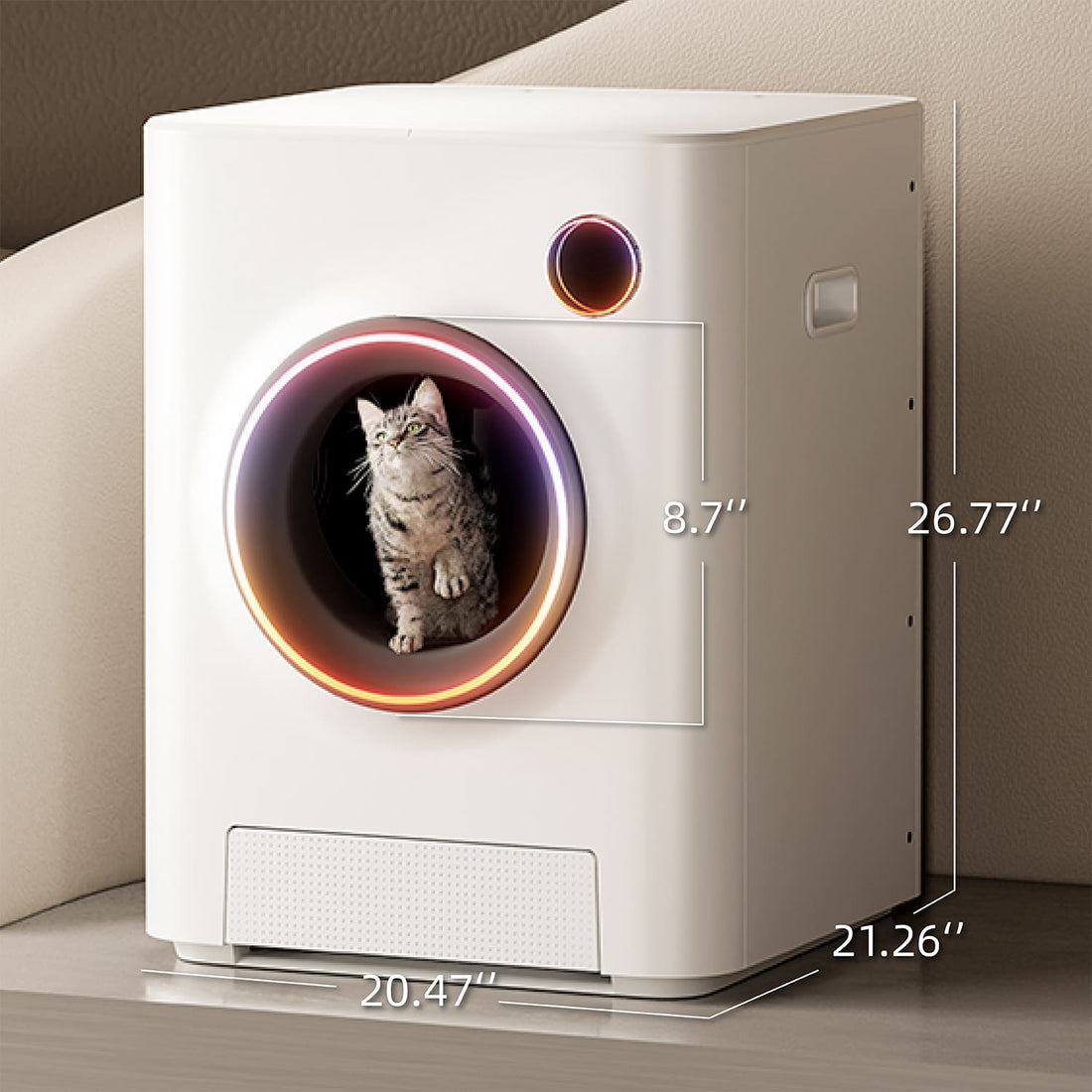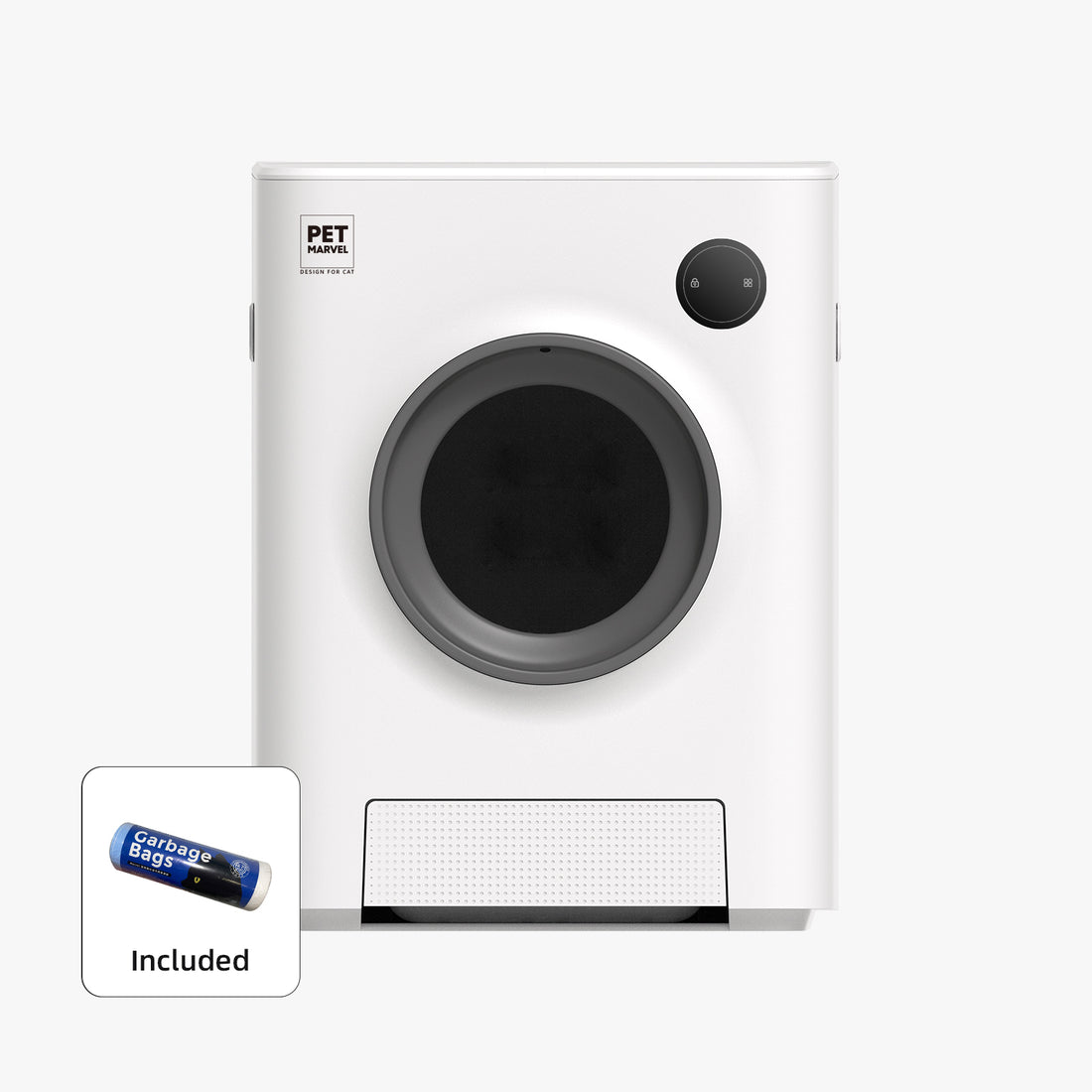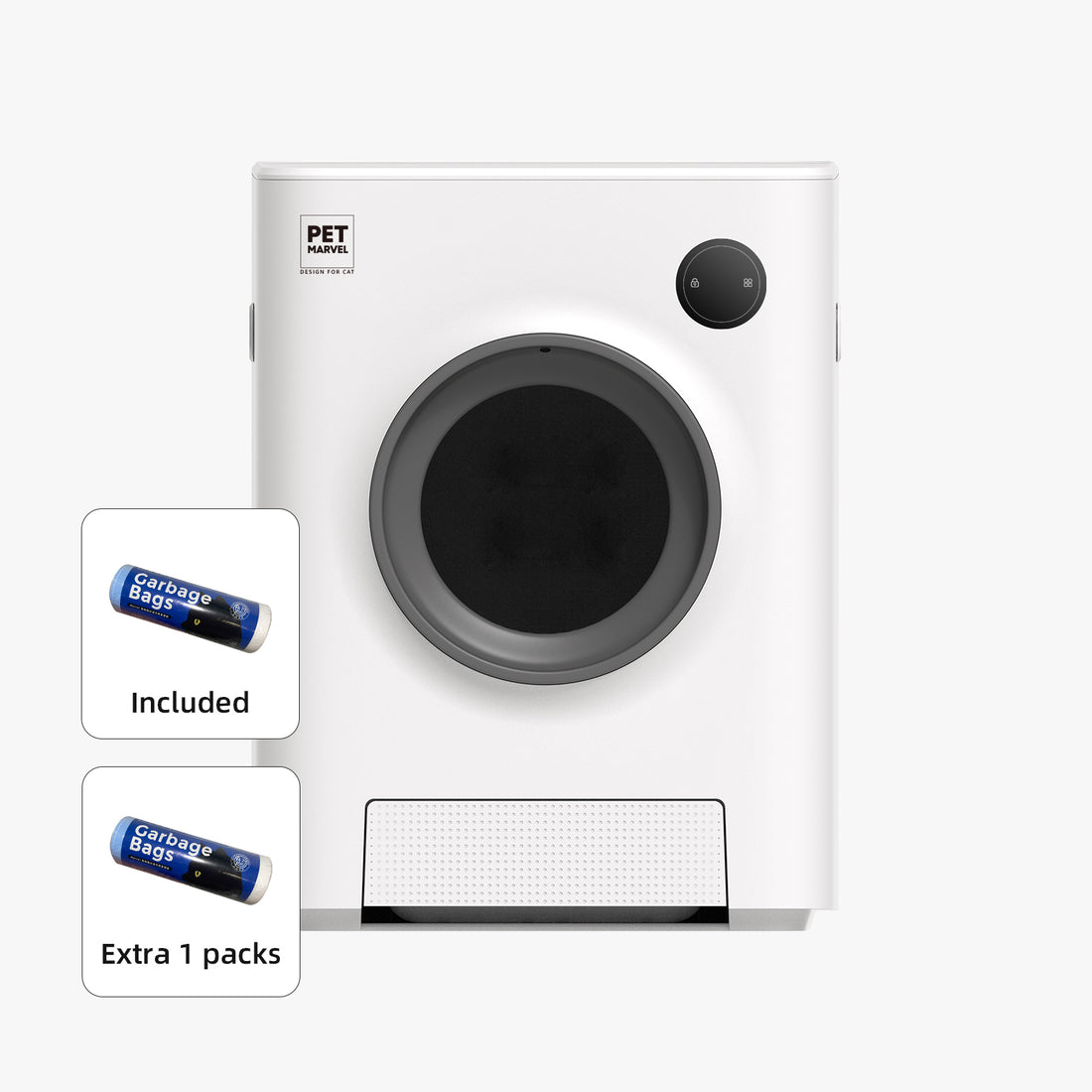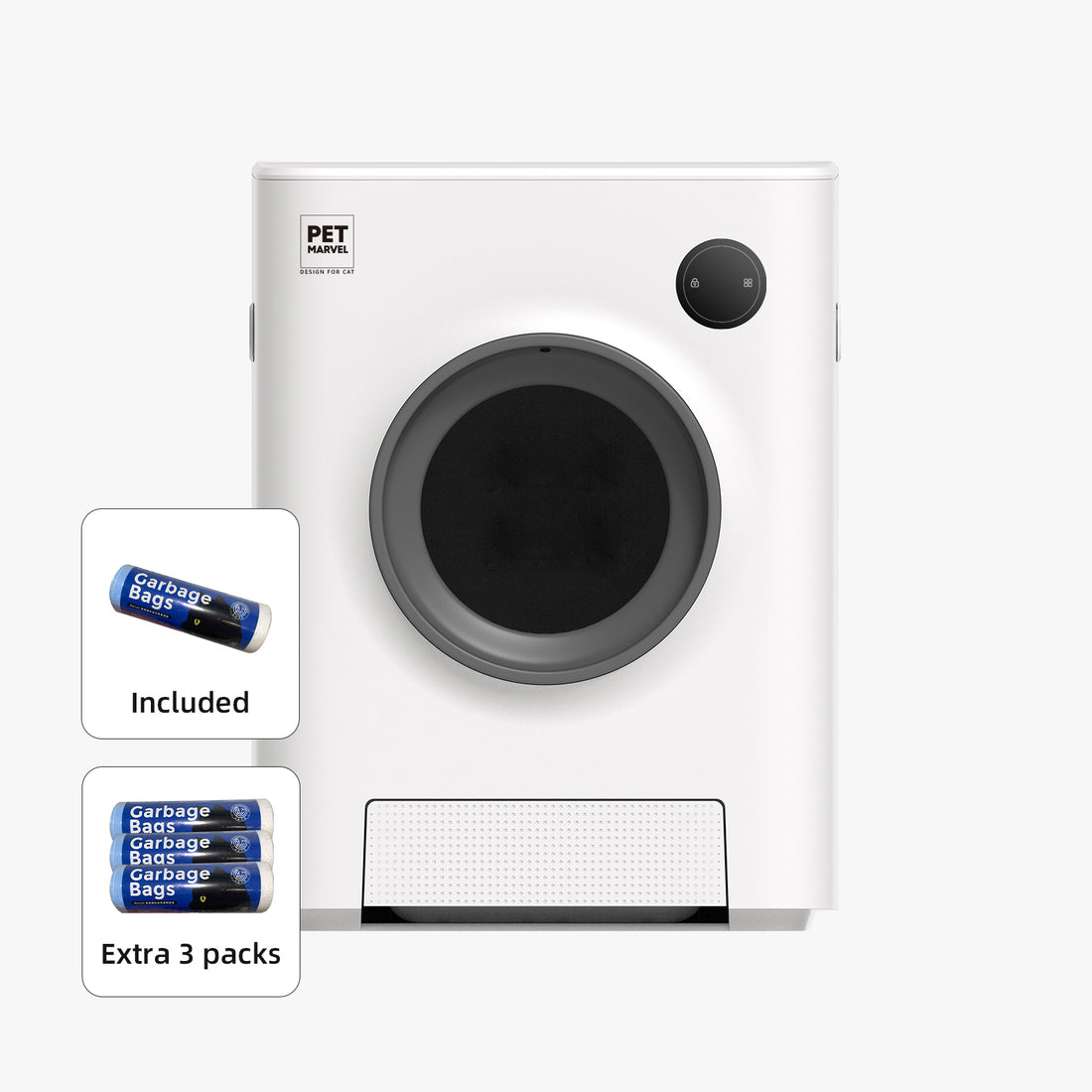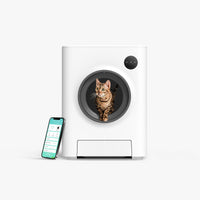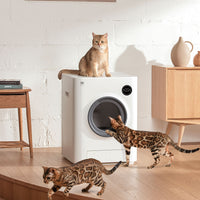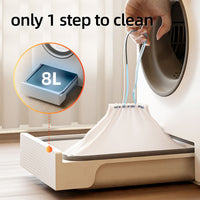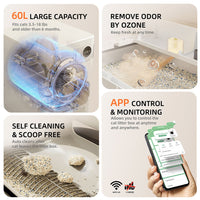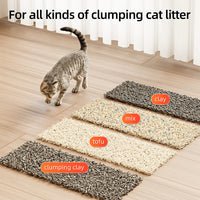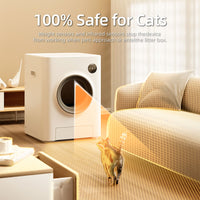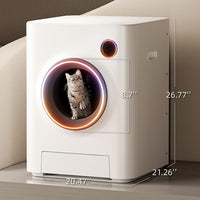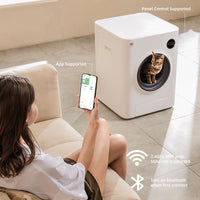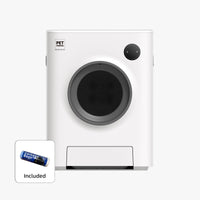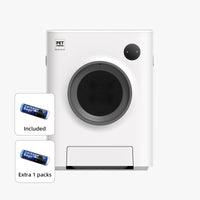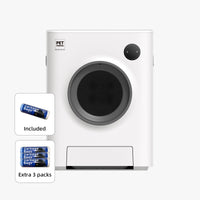 Automatic Cat Litter Cube
10% OFF ON SMART SERIES. CODE: PET10
Pet Marvel's self-cleaning automatic litter box for cats with the highest safety and a Wi-Fi enabled smart application.
Guaranteed Safe Checkout:
With Pet Marvel's litter cube, taking care of your pet won't be a hassle, and you'll save time on litter removal, bin clean-up and odor control.  The app enables you to set cycles, start or stop remotely, and receive notifications of your pet's activity from any location any time. The top space has a flat design which can improve the space efficiency by placing a comfy cat bed or a gorgeous bouquet.
Color: White
Drawer Capacity: 8L
Max Cat Litter Capacity:4.3L
Materials: ABS + PP
Net weight: 32lbs
Dimension:20.5 X 21.3 X 27.1 inches
Power Voltage:12 Volt DC
Power Rating: 15W
Noise: <50dBA
SEE IT IN ACTION
HOW IT WORKS?
SCOOP FOR YOU
As the cat leave, the self-cleaning litter cube automatically rotates, sifts the litter and collects the trash in the bottom drawer bin. The trash bag only needs to be changed once a week for a one cat family. Give cats a clean habitat all the time.
MULTI-SENSORS SAFEKEEPING
Gravity sensors and light eyes act as a dual safety measure that inhibits operation when the cat is present. With the help of extra infrared sensors, it immediately stops when the cat is detected entering the doorway.
STATUS CHECKING ANYTIME
Learn more about your cat's health by looking at the data on the app.
CONTROL FROM EVERYWHERE
When you're at work or going out for a grocery, you can glace at the litter box usage simply on the smart app.
SET-AND-FORGET
Connects in a few minutes.

Keep Your Home Fresh-Smelling
A small yet powerful ozone air purifier can automatically reduce odor.
WE'VE THOUGHT OF EVERYTHING
Quiet Scooping
The quietest level of 46dB noise won't frighten your cats.
More Options for Litter
Compatible with a range of commonly used litter.
Large Inner Space
Easy to make U-turn or lay down inside.
Easy-to-Clean Drawer
Simply remove the waste bag and replace a new one. All done.
OLED Touch Panel
Rapid status checks and simple access for manual operation.
Portable Handle
Makes it simple to move the litter cube as needed.
Step1: Power up the machine and wait for the reset to be completed.
Step 2: Add sand to the MAX line.
Step 3: Execute the shovel, after the shovel is finished the weighting calibrate to complete after the scoop is finished.
Step 1: Perform a bin clean (failure to perform this operation risks damaging the equipment)
Step 2: Cut off the power supply
Step 3: Open the back cover and remove the drum (lift the drum slightly upwards when removing it), close the back cover.
Step 4: Rinse the drum and wipe the drum until there is no residual water.
Step 5: Open the back cover and put the drum back on (lift he drum upwards slightly when putting it back on), close the back cover.
Stpe 6: Switch on the power and the unit will automatically reset.
E1: Weight Sensor Anomaly
E2: Infrared Pyroelectirc
Sensor Interface Anomaly
E3: Infrared Pyroelectric
Sensor Anomaly
E4: Bottom Full Receiving
Ophtalmic Sensing Interface Anomaly
E5: Bottom Receiving
Ophthalmic Sensing Anomaly
E6: Foreign Body in the
Bottom Receiving Photo Eye
E9: Abnormal Back Cover
Saftey Switch Interface
E10: Hall Magnetic
Induction Interface Anomaly
E11: All Hall Anomalies
E12: Discharge Hall
Anomarly
E13: Reset Hall Anomaly
E14: Motor Interface
Abnormalities/Adapter Abnormalities
E15: Motor Blocking
A multi-cat family with two cats that love it 💕
one cat is more shy and occasionally comes to look but still prefers traditional litter boxes. The app records is quite detailed. The deodorizing function is well done and I placed the device in the living room and set it to clean after 1 minute and there is basically no odor. If placed in a well-ventilated area, it should not be noticed. The space is ample and the fattest cat in the house weighing 6.6 kg can easily turn around inside.
Great Leak-proof Ability
I previously bought an automatic cat litter box, but only realized after receiving it that I had to use their exclusive cat litter. The big size and shipping costs made me return it. I learned my lesson and this time I made sure to research the issue. pet marvel's cat litter box works with any brand and is half the price of the previous one. My house has 3 cats, and even a 15-pound fat cat is fine. Good hygiene in the cat room for their comfort and well-being."
The Cat Use It Immediately
The room became super smelly after three days of use, not very good at deodorizing.
Great!
Do my cat like it? Currently only two out of four cats are using the automatic litter box, but searching for ways to help cats get used to it has proven useful. Initially, it may be helpful to turn off the automatic cleaning function and gradually introduce it as the cats become comfortable.
Space Size: The square shape of the product is more efficient in terms of space utilization, but it is indeed quite large, like a washing machine.
Product Quality: The app's functionality still needs improvement, but overall it meets the needs.
Anti-leak sand control: Bought a sand control foot pad, otherwise the entrance is still a bit high and the cats are not used to it. Now I check the app several times a day to see if the cats have gone.
Pros And Cons!
After using it for a month or two, I would like to share the pros and cons with friends who might be interested. Pros: 1. I have two cats at home and it can last 4 days without cleaning the litter, and it barely spills on the balcony. 2. The sensor is sensitive and safe. 3. The appearance is square and looks good. 4. It is relatively easy to disassemble and clean. Cons: 1. In my opinion, it only works well with natural sand, other commonly used tofu cat litter and bentonite cat litter mostly sticks to the bottom, and can't be cleaned during the automatic cleaning process. 2. The litter box is shallow, it should be designed in a funnel shape to accommodate more